The Dettah Ice Road is now open to traffic.
Vehicles under 5,000 kilograms can now access the road, according to a Tweet by the GNWT's Department of Infrastructure on Tuesday.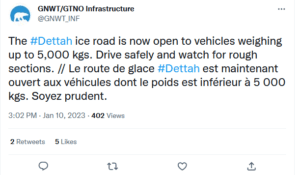 The opening comes after delays related to warm weather and unfavourable ice conditions: The average opening day for the Dettah ice road over the past two decades has been December 24. That makes this season's opening 17 days later than average.
It was not immediately clear when the road would open to heavier traffic. CKLB has reached out to the Department of Infrastructure for comment.