Members of the Yellowknives Dene First Nation are getting ready to head to the polls this summer.
Four candidates are vying for Chief in Dettah. Former Lands and Environment Manager Rachel Crappeau is the lone female candidate, along with longtime Councillor Bobby Drygeese. Former Ndilo Chief Fred Sangris is also in the race, against his cousin and incumbent Chief Edward Sangris.
Returning officer Lynda Commerford says the election is set for August 12th. She adds that there will be an all candidates forum on August 1st from 7:00 – 9:00 pm at the Chief Drygeese Community Hall in Dettah.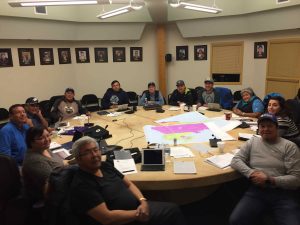 A regular election for all 10 Councillors from Ndilo and Dettah will be on August 26th. The deadline for nominations for the Councillor candidate positions is next Thursday, June 27 at 5:00 pm.
The YKDFN council consists of 10 councillors, five from Dettah, five for Ndilo, and a Chief for Ndilo and Dettah. The Chiefs chair council meetings that are held in each community at least once a month.
Ernest Betsina is the current chief for Ndilo. The Ndilo Chief election is staggered and will be held two years from now.
All positions on Council are four-year terms.
Four candidates in race for Dettah Chief. #YKDFN members head to the polls August 10th, with the Council election set for August 26th, with nominations closing next Thursday June 27th at 5pm. #CKLB pic.twitter.com/zZakEpJRJ3

— Josh Campbell (@Splash_Campbell) June 20, 2019