The NWT and Yukon remain Liberal red. Michael McLeod was re-elected here in the NWT with 40 per cent of the vote. It was a much smaller margin of victory in the Yukon for Larry Bagnell. According to Elections Canada's preliminary results, Bagnell received just 72 more votes than his Conservative opponent.
"I want to thank everyone for their support. Also I want to thank my brother Bob McLeod for all his service to the NWT. I wonder if my dad would have been easier on us, waking us up in our log cabin along the Mackenzie River and sending us off to school early in the morning, if he knew he was sending the future premier out the door," McLeod joked during his victory speech Monday night.
Nunauvt elected their youngest MP ever with 25-year-old Mumilaaq Qaqqaq from Baker Lake securing the territory for the NDP. The territory had three women running for the major parties, and saw Leona Agglukaq return to the ballot. She was the health minister during the Harper government until losing to Hunter Tootoo in 2015.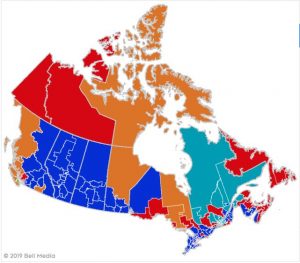 While Prime Minster Justin Trudeau holds onto a minority government, the Canadian Press reports Andrew Scheer's Conservatives took nearly 18 million ballots claiming 34.4 per cent of the popular vote compared to the Liberals' 33.1 per cent.
Conservative blue dominates the map across the Prairies, as the party won 33 of the 34 seats in Alberta and all 14 in Saskatchewan, as well as large swaths of the B.C. interior and rural Ontario.
In British Columbia, voters in Vancouver-Granville are sending Jody Wilson-Raybould back to Parliament as the only Independent MP. Her colleague Jane Philpott was not successful in her bid for re-election as an independent coming in third in her Ontario riding of Markham-Stouffville.
Wilson-Raybould said she'll use her seat to push for better climate change policy, electoral reform and "true reconciliation" with Indigenous people.