Update, Jan. 11 2:00 p.m.: In an email to a tenant of the former Solar Apartments building early Wednesday afternoon, a Midwest employee said "Maintenance are doing their best to change the locks and that's the priority but we don't have a timeline."
Yellowknife RCMP are asking for the public's help in solving a string of break-ins at locations owned and operated by Midwest Property Management.
Four break-ins affecting Midwest have happened since December 24. The most recent, on the evening of January 6, was a break-in at the office of Fraser Towers, during which several items were stolen.
It was not immediately clear which of the break-ins, if any, were connected.
Following the break-ins, Midwest posted a notice at the building formerly known as Solar Apartments warning residents that during the most recent break-in, a set of keys was stolen, and to "please be aware of anyone suspicious entering the building and report it."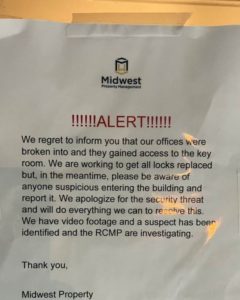 Midwest also confirmed the Fraser Tower office break-in. "Midwest Property Management has always ensured that the safety & security of our rental communities is of paramount importance, and we immediately commenced a process of re-keying certain locks and adding new cameras and alarms to help deter further incidents," reads a statement from the company.
Police are looking for an unidentified man and woman in connection with the break-ins. Anyone with information to share is encouraged to contact Yellowknife RCMP at 867-669-1111 or Crime Stoppers at 1-800-222-TIPS (8477).