Stephanie Yuill never thought twice about her porridge, whether at home or on a camping trip.
But while on a trip to the United Kingdom in 2016, she learned about the Golden Spurtle, an annual porridge-making competition with entries from across the world. (A spurtle is a wooden utensil used for stirring porridge.)
This year, she's bringing to Carrbridge, Scotland a taste of her former home community: Paulatuk.
"I wanted to introduce the world to Northern foraging and Northern treats," says Yuill, who lived in Paulatuk for three years and now lives in Yellowknife. "So it was definitely specifically designed to be showing off the North."
Yuill is still busy honing her concoction before leaving for Scotland on Thursday: She'll be competing with 29 other entrants from countries across the world, including Zimbabwe, Indonesia and Pakistan. Past entries have included pina colada porridge, blueberry cheesecake porridge, and baked oat Alaska.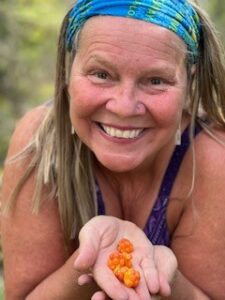 Yuill's recipe starts by boiling the porridge in Labrador tea. Next comes a compote of aqpik [cloudberry], blueberries, cranberries, and birch tips. "We don't have birch on the tundra, but we do have to dwarf birch, so it's all species that can be found on the tundra and they can be gotten off the tundra, except for the birch tip."
But foraging for ingredients has been a challenge this year: Yuill blames climate change for the difficulty in finding local ingredients. "There's a very small part of me that is actually considering changing the name from 'Paulatuk Porridge' to 'Climate Change Concoction,' because I actually hadn't been able to properly practice my compotes, because there are no cranberries," she says. "The six or eight cranberries I found this year were shriveled to bits, the cloudberries were just the same. So the foraging is very, very difficult this year."
Instead, Yuill will have to improvise, including substituting foraged cranberries for frozen ones.
But ultimately, Yuill says the competition isn't about winning for her. "I'm really just going there for fun," she says. "Like it's yeah, it's a world competition. But we had a meeting with all the competitors about a week ago. And they said yeah, the whole point of this is to have fun with it. And that's why I'm going."
"And there's a Scotch tasting between every heat, so you can't go wrong there."
The 30th annual Golden Spurtle takes place in Carrbridge, Scotland on Saturday, Oct. 7.