"The Western medical system can be quite harmful to people that it wasn't necessarily built for (or) built to support. There are a lot of challenges with racial equity in the healthcare system. And we see that in reproductive health care, as well," says Sabrina Flack, co-founder of Northern Birthwork Collective (NBC) in Yellowknife.
Earlier this year, the organization hired its first Indigenous birth worker to address some of the gaps in culturally appropriate and sensitive care for Indigenous women and families in the territory.
Meet Treiva Plamondon, a 24-year-old from Hay River.
From client support to prenatal care, through labour and delivery, postpartum care, and even pregnancy loss; this is just a glimpse into the world of caring for someone throughout their reproductive journey.
Although this role is still in its infancy, Plamondon has been working as a doula for NBC for five years and now she's ready to offer full-time support that is catered to her clients.
"I think that's a skill that not a lot of people have and you really have to learn to have a non-biased opinion and be like 'What do you want?,'" she says, "And I know that I have that."
"I really felt like this position was meant for me," she adds.
CKLB caught up with Plamondon on her new role and thoughts on the reproductive experiences of Indigenous peoples in the N.W.T.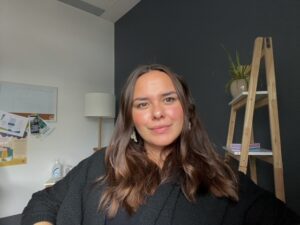 What is an Indigenous birth worker?
An Indigenous birth worker, essentially, is someone who is Indigenous and is able to support people as a doula or in other words, birth worker, either prenatally postpartum, during their labor and birth through other things like abortion support.
As an Indigenous birth worker, we're able to provide culturally-sensitive care or culturally-affirming care and have more of an understanding of barriers that Indigenous people have in the communities; We can relate to them more closely.
What is culturally-sensitive care?
Culturally-sensitive care is understanding cultural barriers, such as having to be evacuated for reproductive care. A lot of communities in the North have to be evacuated.  Most Indigenous people have to leave their communities to access care.
It's an understanding of, where they're coming from. It's a place where people feel comfortable and affirmed in their traditions, practices, and how to honor Indigenous traditions, helping them to connect back to those traditions that probably were lost. With addictions, and residential schools, it's all kind of come full circle, and it's affecting reproductive care. It's great to have somebody who can fully understand what they're going through.
What are some of the barriers Indigenous women and families are facing?
Just access to care in their community.
But specifically, if we're talking about birth, there are only two communities in the Northwest Territories that actually have midwives available for their people to stay. And even in Yellowknife, there are no midwives so people are still forced to seek care from a more medicalized world.
One of the biggest barriers right now is a lot of communities do not have access to prenatal or postpartum care, because they just don't have the resources in their small communities. And so, they're forced to leave their communities to (go to) either Yellowknife, Hay River or Fort Smith. A lot of people don't feel safe enough to give birth in Hay River or Fort Smith because they don't have access to a cesarean section and things like that. We've become so accustomed that to have those options means it's safer. And oftentimes, having that option can actually cause a lot of people to just settle and not trust their bodies that they can give birth.
A lot of people don't even choose to stay in Hay River or Fort Smith to give birth because they don't have other options. Or, more specifically, there might not even be a doctor in their community at that time, and that can feel unsafe for them.
What made you want to pursue this work?
I've always felt really drawn to birth.
I think my grandmother used to breed giant Alaskan Malamutes and I was always interested in the birth process.
She would talk about how there's a new mom who's having puppies, it was really exciting for me. I think that's where it started.
In high school, I was in a career program planning class, and I was looking for careers that I could do, and I really had no idea at the time. I thought, I want to work with women and families but I don't want to be a doctor. I don't want to work in a hospital.
I wanted to support women, but then I also wanted to see birth and stuff. I just kept searching and searching. And then I discovered midwifery, and right away I was like, that's what I want to do.
Unfortunately, because of educational barriers in the North, it's been really challenging to find support in that journey. I've had to do a lot of online schooling to try and get better grades, and just finding access to midwifery education is really challenging. There's only a handful of schools in Canada and a lot of those schools only have a select number of people that are accepted each year. Some of them have designated Indigenous spots, but even then, the competitive grade point average is usually around 95 per cent. That's almost in a way impossible, especially if you're coming fresh out of high school.
There's a lot of people who are in programs and they quit because they don't actually want to be a midwife. It really shows that the application process needs to be changed.
What do you bring to this role?
I remember being fresh out of high school, I applied to Midwifery, and I didn't get accepted. And I remember being really, really upset.
My mom was like, you need to go to school, you need to do something, and there was the Personal Support Worker program here in Yellowknife at Aurora College, and it was a one-year program. And I really didn't want to do it. But I did just to please her. And I'm really glad that I did because I learned a lot about caring for people.
I want to care for babies, and people that are having babies; That was always my passion. With being a personal support worker, we're working on the total opposite end of that, which is Elders and people that are dying. I really didn't understand why my journey kind of ended up there. But recently, I realized that death and birth are so similar. Even death is something to be celebrated.
What I bring to the table is that full circle understanding and support of people. I've learned a lot about how to support people through that role. Using those skills that I learned, supporting people through their old age (is) very similar to supporting a family during birth, because it's a transition from the spirit world to the physical world.
Why is it important that a role like this exists?
There are amazing doulas and birth workers here in Yellowknife and in some other communities. But there's not someone here that is in that strict role. With this job, it's so important to have somebody that's available to do this care instead of just as a hobby.
As a doula, you're on call from around 38 weeks until the birth. That's a long time to be on call. With this job, it gives people somebody that they know is going to be there. I think that's so important, because, unfortunately, we had to turn people away before this job was created. And now, we don't have to do that.