Despite being a five-time Juno award-winning artist, Leela Gilday wasn't always comfortable expressing herself. A feeling she's known ever since she was a young girl, growing up in Yellowknife.
"I felt like my voice wasn't as important as other youth and so it's taken a lifetime of trying to realize the value of everybody's voice," she says.
She attributes these struggles to the experiences her Dene community faced at the hands of colonization.
"Because of the breakdown of the family unit and the way that the residential schools disrupted that whole family unit," she says. "We have to look within our communities and families to find that sense of connection and pride again."
Now Gilday looks to her own backyard, sharing talent from the North in her latest initiative called Feel Out Loud with Kids Help Phone.
Kids from the Fireweed Chorus and Sir John Franklin School choir accompanied Gilday, alongside a plethora of other Canadian talents on a song called, "What I Wouldn't Do/North Star Calling". The music video features Chief Jimmy Bruneau students at Stagg River in Behchokǫ̀.
Although she's proud to bring northern voices and faces to the forefront of this project, she says, "I also think that it's important to recognize the really difficult set of circumstances that our kids face, specifically because of that colonial trauma."
She mentions things like isolation, lack of access to services, domestic violence, addiction and suicide that plague northern communities the most.
"Everybody in the North knows somebody or has a family member or friend that has committed suicide, and /or that suffers and struggles with addiction, or that is incarcerated because of a violent incident. It's common," she says.
Gilday says this is a milestone in her career, and that she couldn't have done it without the support of the youth from her community.
"I think that's the beauty of this project, to give agency to youth voices," she says, and she did just that.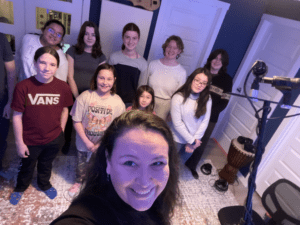 Hear me, see me
"I think the North is definitely under-represented," says Maura Smith, "So to be involved in something so big, it's really important."
Smith is a 15-year-old from Yellowknife. She sang in a state-of-the-art recording studio for the first time as part of this campaign.
"It was so surreal," she says."I'm still having a hard time computing it."
It took her and the choir roughly four days to fully learn the song, "it was a really short and sweet process, but it worked really well," she says.
On the subject of mental health, Smith gets candid with CKLB about some of the realities of being a young person living in a small community.
"A lot of kids struggle with mental health when it comes to anxiety and quite commonly suicidal thoughts. But we all try to support each other. But being teenagers, it can be really hard to do that because we're experiencing it ourselves and so we don't really know how to handle ourselves, let alone other people," she says.
She attributes a lot of these residual feelings to the effect of the pandemic and the disconnect between families.
"It's difficult for them to fully understand, like, what I'm feeling because I'm just a kid, and I shouldn't be feeling overtly sad?"
She says, in those moments she feels silenced and that having anonymous call-in services like Kids Help Phone is so critical.
"The secrets that you tell that person, it feels like they can't really go anywhere," she says. Smith's advice to her peers is to find an outlet to communicate their thoughts and feelings in a healthy way, whether that be journaling, swimming, walking, cooking or even listening to music.
According to the latest coroners report, the majority of suicides between 2021 and 2022 were among males between the ages of 20 to 29. At that time, 29 people died by suicide. Since the report, Health Minister Julie Green has acknowledged that the Northwest Territories is experiencing a mental health crisis.
The campaign is set to reach $300 million dollars to help expand mental health e-resources across Canada with the goal to reach every young Canadian by 2024.
"I know how much therapy has helped me in my life and I just hope that with this campaign, lots more kids will pick up the phone instead of the alternatives," says Gilday.
Deanna Dunham is the director of Indigenous Initiatives and equity programs at Kids Help Phone.
From 2021 to 2022, they had a 400 per cent increase in the number of NWT residents reaching out regarding family changes and relationships. In addition to a 200 per cent increase in those seeking counselling for emotional abuse.
She acknowledges that young people, especially in remote communities, don't have access to the same level of mental health support, infrastructure and connectivity as their southern neighbours.
"We have Indigenous wellness specialists who are on our clinical team who train all our counsellors. So we and all of our counsellors and crisis responders and staff, in general, have ongoing training on supporting Indigenous people," she says.
Indigenous people can connect with an Indigenous volunteer crisis responder, when available, by messaging FIRST NATIONS, INUIT or METIS to 686868 for young people and 741741 for adults.
The NWT Help Line is also available 24/7 at 1-800-661-0844.
To contribute to the initiative residents can buy the song on all streaming platforms.