Tensions and tempers ran high at a meeting for members of the Salt River First Nation in January. Jeannie Marie-Jewell, a distinguished SRFN Elder, was there in Edmonton, filming. Then she passed the phone to her neighbour, Toni Heron: She had some questions for acting chief Brad Laviolette.
"On what basis did you extend [Heron's] suspension, or even suspend her without trying to work with her?" she asked.
When Laviolette didn't respond to that question, Marie-Jewell pressed him again. "You also have to let us band members know why you five councillors decided to suspend our chief."
 "I can't talk about that issue here today; It's before the courts," Laviolette responded.
"Yeah, I know it's before the courts, but at the same time, it seems like you really wanted to be Chief, Brad," said Marie-Jewell. "You should've run."
"This is all I plan to do," Laviolette responded. "This is the way it worked out for me."
Later in the meeting, Marie-Jewell pressed Laviolette about his assault charge.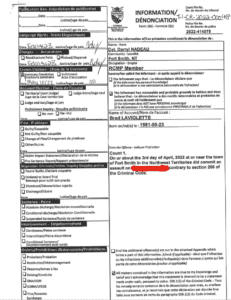 "You know what really disappoints many of the Elders is the fact that you're acting chief and you have a pending assault charge against you," she said. "That doesn't reflect well."
"I can't speak on that either; It's before the courts," said Laviolette.
The meeting is just one scene from what Heron describes as a months-long political "hostage" situation.
'I wasn't the one they wanted'
On Sept. 19,  Heron was elected chief of Salt River in a four-way race.
On Oct. 6, just three days after being sworn in, council voted to suspend Heron for 60 days, replacing her with councillor Brad Laviolette as acting chief. Following her suspension, Heron convened a special meeting of SRFN members on Oct. 23, who overwhelmingly voted to oust Laviolette and councillor Kendra Bourke. (That result was later stayed by a federal judge.)
Then in December, council voted to suspend Heron again. And again in February, and again earlier this month.
Leading up to her first suspension, Heron was given a letter from council listing her alleged failures as chief. These included failing to take timely action on a number of items, such as submitting a bid for the construction of a new fire centre in Fort Smith. The letter also accused Heron of "[wanting] to fire everyone and hire your own employees," which Heron denies. It was signed by every councillor except Levi MacDonald, Heron's grandson.
The last three times she was suspended, Heron says she received no communication from council.
"I never got a letter, I never got a message, I never got anything from those councillors saying that I'm suspended," she says. "The only way I find out that I'm suspended is when they put something on the walls of the public, like at the office, or else at the Petro-Canada gas bar."
The battle goes to the courts
So far, the courts have not ruled in Heron's favour.
In October, SRFN filed a motion with the Federal Court of Canada to prohibit Heron's special meeting and uphold her suspension. In a decision based on "balance of convenience," Justice Ann Marie McDonald wrote that "Although I am not prepared to issue an Order that prohibits members of the SRFN from convening or attending a meeting, I am prepared to Order that the Respondent be prohibited from exercising or performing or purporting to exercise or perform any of the duties and powers of the Chief of SRFN during the term of the suspension."
McDonald also said Heron's attempt to call a meeting while suspended was "an act of open defiance."
In November, after the special meeting where Laviolette and Bourke were voted out by membership, Justice McDonald stayed and suspended those decisions while the matter made its way through the courts. She also ruled that in the meantime Laviolette and Bourke "may continue to carry on their roles as Councillors."
According to SRFN's elections code, council would need to convene a special meeting of members to vote out Heron.
"What the council's done is they've not done that, they've not put it to members, they've just kept on invoking the 60 days over and over again, essentially to keep the chief in limbo," says Heron's lawyer, Evan Duffy.
SRFN's lawyer, David Rolf, argues the band does have the power to enact repeat suspensions. "The Salt River First Nation's law says that if a member of council is suspended by council, that includes the chief, it can do so for 60 days," he says. "But then it goes on to provide that thereafter, council can extend the suspension they've given. So I think there is clearly a power there for council to do what it's doing."
'Underhanded and irresponsible'
Members of SRFN have expressed an overwhelmingly negative reaction following the band shuffle, budget passing and ousting of the elected chief, Heron.
"When [council members] see you they either walk away or run away, they don't even say hi," says Henry Beaver, a former SRFN chief. He and other members are frustrated over what they perceive as lack of communication from the band and the disregard of membership requests.
"It really makes me ashamed of Salt River, of the council," says Beaver.
During this time, Beaver has requested meeting minutes but has received none. "None of the members from what I understand have gotten any of the minutes of any of the council meetings," he says.
Beaver is worried about the financial impacts on the more vulnerable residents of SRFN who rely on the band, and what this could all mean for the band's future.
Beaver called the actions of the acting chief and council "underhanded and irresponsible," and said that family ties may be to blame.
"It's disappointing to see the abuse of power by the council," says Marie-Jewell, a former MLA who was the territory's first female speaker of the house. "It's disgusting to watch, to tell you the truth."
Marie-Jewell has been to multiple meetings since and says she's embarrassed by the actions of council and the growing joke that her community is becoming in the territory due to the constant political tug of war.
"I sense a significant amount of frustration in the community. But no one wants to step forward," she says. "It's almost like the membership of Salt River First Nation is held captive."

"There is no doubt people who depend on the band are afraid," she adds. "They're afraid of retaliation. They're afraid of any of their requests being refused. You know, they're just afraid. And it's always been like that."
CKLB has granted one SRFN member and former councillor anonymity due to the nature of this story."It's not good for me as a member, I'm pretty sure that it's not good for any of the members unless you are related to the Laviolettes or Schaefers," they say.
"No matter what we try to do, they strong-arm and bully and intimidate band members."
Similarly to Beaver, this SRFN member is directly impacted by the decisions of council and is growing concerned with its spending: They were surprised to learn the band had purchased two pick-up trucks and, allegedly, a brand-new loader late last year.
"I want somebody to go in there and sort this out now and be done with it so that we can move on as a membership," they say. "We've been broken too long. And this has to stop. And these people need to be brought to justice and be done with it."
More than six months have passed since Laviolette became acting chief of SRFN.
Heron's fourth consecutive suspension is set to expire on June 5th.
CKLB has reached out to Laviolette and Levi Macdonald. 
Correction: An earlier version of this article stated that "Seven months have passed since Laviolette became acting chief of SRFN." At the time of publication, Laviolette had been acting chief for six months and 12 days. CKLB regrets the error.